Farming Supplies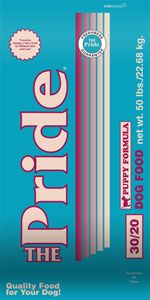 The Pride 30/20 Puppy Formula
The Pride Puppy / Growth Formula is designed for gestating, lactating females and puppies up to 12 months of age. Can also be used for post surgical and debilitated dogs that have extra nutritional requirements. Also helpful for maintaining muscle mass and stamina for dogs in extremely stressful conditions.
Chicken Based Protein.
Rice 2nd Ingredient ( highly digestible complex carbohydrate).
Balanced Omega 3 and 6.
Highly Palatable.
Naturally Preserved.
Completely balanced vitamins and minerals for optimal puppy growth.
Includes dairy products for optimal digestive health and development.
Available in 25lb and 50lb Bags.