Farming Supplies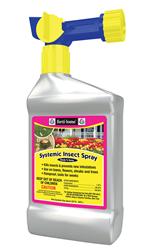 Systemic Insect Spray RTS
Insects Controlled: Aphids, Chinch Bug, Cutworms, Lacebugs, Japanese Beetles, Whiteflies, Elm Leaf Beetle, European Crane Fly Larvae, Mealybugs, and many others listed on the label.
Apply as foliar spray when insects first appear and before high pest populations are present.
Re-apply when re-infestation occurs.
Please read and follow label directions.