Farming Supplies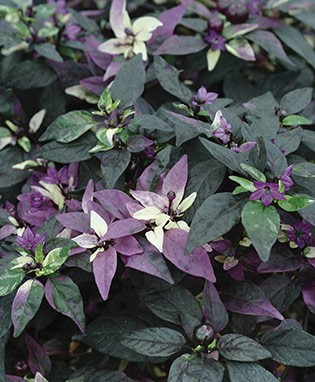 Purple Flash Pepper
This ornamental pepper unfurls smoky purple-black leaves on a plant that branches freely. The branches form a pyramidal shapeŚwithout pinching. Flowers open purple and fade to shiny round fruits that ripen from black to fiery red. As fruits start to form, new leaves sport splashes of white, green, and vibrant purple. Plants definitely capture attention.
Purple Flash peppers are edible, but really pack the heat. Locate plants away from areas where small children play. These tiny, colorful peppers beg to be picked, and an unwary child could suffer burns.
This pepper tolerates high heat and drought. Provide shade during the hottest part of the day in Southern gardens. It also adapts well to growing in containers. Plants bear fruit until frost.
Light: Full sun
Fruit size: 1-inch round fruits
Maturity: 80 to 100 days
Plant spacing: 15 to 20 inches apart
Plant size: 12 to 18 inches tall, 20 to 24 inches wide
Scoville heat units: 5,000 - 30,000 (hot)