Farming Supplies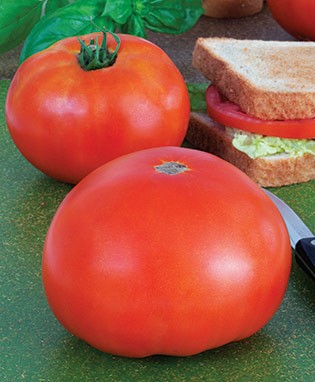 Park's Whopper Improved Tomato
If the classic Park's Whopper could be improved, this tomato does it with greater disease resistance, higher yield, and a longer growing season. Big, juicy, meaty sandwich-sized tomatoes appear early on indeterminate vines that continue until frost. Plants in our Alabama test garden, where conditions are ideal and the harvest lasts two months, bear 60 to 80 pounds of tomatoes. These vines are vigorous, so be sure to stake or cage well.
Resistant to verticillium wilt (V), fusarium wilt races 1 and 2 (F), nematodes (N), and tobacco mosaic virus (TMV).
Some Bonnie Plants varieties may not be available at your local stores, as we select and sell varieties best suited to the growing conditions in each region.
Fruit size: 14 oz
Matures: 65 days
Plant spacing: 36 inches apart
Plant size: 8 to 10 feet tall
Plant type: Indeterminate