Farming Supplies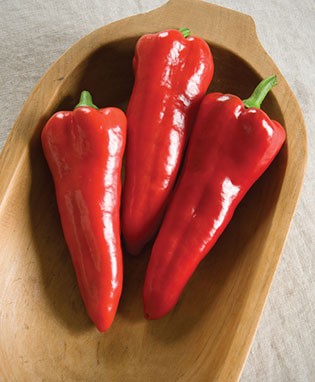 Carmen Italian Sweet Pepper
For sweet peppers that taste wonderful roasted, plant Carmen. This Italian pepper is a bull's horn type (corno di toro), so named for its elongated shape. The sweet flavor is present in fruits from the time they form. Wait to pick fruits at their deepest red hue and you'll experience a richly sweet flavor.
Plants bear fruit until frost. If space is tight, try Carmen in containers, tucking trailing annuals along pot edges. Carmen was developed to bear fruits under cooler growing conditions, making it an excellent choice for areas with short growing seasons as well as the rest of the country. This adaptability and great performance earned it an All-America Selections award in 2006. The plants are resistant to many diseases: verticillium wilt (V), fusarium (F), and tobacco mosaic virus (TMV).
Disease resistance: Tobacco mosaic virus, potato Y virus, and bacterial leaf spot races 1, 2, and 3.