Farming Supplies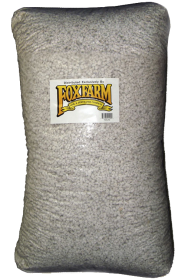 Big and Chunky Perlite
Use it in containers with our Ocean ForestŪ or Happy FrogŪ Potting Soil to improve drainage, keep roots oxygenated, and prevent plants from becoming waterlogged.
Hydroponic growers know that Big & Chunky is the ultimate hydroponic grow medium. Use it as a stand-alone product or combine it with our Light WarriorŪ Agro-PonicŪ Grow Medium, and enjoy it's added benefits of mycorrhizae (a beneficial fungi species that promotes root growth and enhances fertilizer uptake).
Garden Tip: In containers, spread Big & Chunky Perlite in a one-inch layer along the bottom of the pot, then mix one part Big & Chunky with four parts potting soil. Water thoroughly and allow soil mixture to settle before planting. In hydroponic systems, fill pot with Big & Chunky, and position plant properly so its root system is supported in the medium.
For seed starting and propagation, mix one part Big & Chunky with three parts Light WarriorŪ. Go here for a hydroponic Feeding Schedule.