Farming Supplies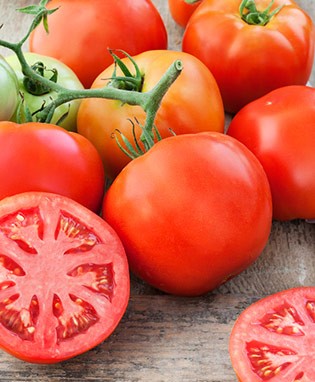 Big Beef Tomato
For years gardeners wanted a large, beefsteak-type tomato that was delicious, early to bear, and highly disease resistant. Finally in 1994 those wishes came true with Big Beef. The large fruit has old-time tomato flavor and the vines are resistant to many of the problems that can discourage gardeners. The fruit is borne on vigorous, indeterminate vines from summer until frost. Compared to other beefsteak types, Big Beef is early and will set fruit reliably even in cool, wet weather. We harvest dozens of tomatoes from each plant in our Alabama test garden, where the harvest season lasts two full months and the growing conditions are very good. It grows well throughout the country, earning it an All America Selections designation in 1994; it has since grown to be a national favorite. Vines grow long, so give the plant the support of a tall cage or stake.
Resistant to verticillium wilt (V), fusarium wilt (F) races 1 and 2, nematodes (N), and alternaria stem canker (ASC), gray leaf spot (St), and tobacco mosaic virus (TMV).
For gardeners who enjoy plant history and interesting facts, Colen Wyatt, the breeder of this variety, was one of the most successful home garden vegetable plant breeders in the last half of the 20th century. He also bred Celebrity and Husky Gold tomatoes, which are both also AAS Winners.
Fruit size: 12 to 16 oz.
Matures: 73 days after planting
Spacing: 36 inches apart
Plant type: Indeterminate